Episodes
Wednesday Sep 19, 2018
Wednesday Sep 19, 2018
You listened to our first foray into the world of Vampire: the Masquerade 5th edition. Now is your chance to run the same story at your table top. Ascension Night is now available for Pay What You Want on the Storyteller's Vault, and can be found here: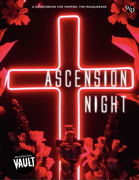 This document provides you everything you need to know about Manchester by Night, the story itself, and a set of characters ready to play.

How will you survive Ascension Night?
Be sure to check us out on Facebook or through our Google Plus Community. To stay up to date, subscribe through iTunes! 
Links For This Episode: